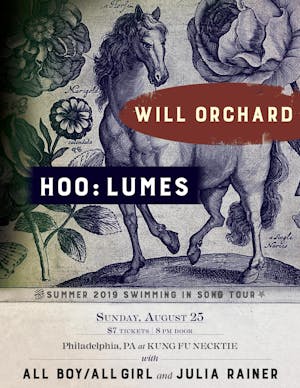 all boy/all girl / Will Orchard / Hoo:Lumes / Julia Ranier
all boy/all girl ~ Will Orchard ~ Hoo:Lumes ~ Julia Rainer - 8/25 at Kung Fu Necktie
// Sunday 8/25 at Kung Fu Necktie //
( Facebook | Instagram | Bandcamp | Soundcloud )
a band
----------
( Facebook | Instagram | Bandcamp | Soundcloud )
Will Orchard, a native of Rhode Island, began quietly releasing music in 2015 under the name LittleBoyBigHeadOnBike. Through a cathartic and carefree process, he steadily churned out hundreds of home recorded songs compiled into literally one-hundred releases on bandcamp, often drawing from whimsy and childlike tales in his lyricism. During this time, he began to take his songs around the US in a do-it-yourself fashion, gradually accumulating a small, passionate following. With releases like God Damn Wonderland and Big Blue Butterflies he delivered colorful, unpredictable collages, complimented by the hundreds of homespun arrangements decorating his constant output of songs. He is currently on the verge of releasing his transformative first record under the name Will Orchard, to be expected in early 2020.
----------
Hoo:Lumes (Asheville, NC)
( Facebook | Instagram | Bandcamp | Soundcloud )
Hoo:Lumes is the result of an ongoing songwriting partnership between two college friends - Sophia Darby (vocals, guitar, synth) and Drew Sencabaugh (drums, guitar, synth). The folk-tinged, indie rock duo performs two sets of original music; one acoustic, one electric. They seek to provide listeners with an evocative, magnetic and dynamic experience. Hoo:Lumes is now located in Asheville, NC.
----------
( Facebook | Instagram | Bandcamp )
Julia Rainer sings her truth. With a foundation of love, loss, grief, depression, anxiety, alcoholism, recovery, and awakening, she has a strong belief in honesty, compassion, and the wisdom of experience. Inspired by those who have come before her—Hank Williams, Odetta, Neil Young, Joni Mitchell, Nico, Leonard Cohen, Jeff Buckley, Tom Verlaine, and Jenny Lewis—she seeks to make music that empathizes. Raw guitar playing, simple folk song structure, and soulful, hauntingly sung lyrics define her sound. Sometimes compared to Hope Sandoval, Sinead O'Connor, Cat Power, and Alanis, Julia finds herself in good company.
Julia has quickly found a foothold in the now-flooded Philadelphia music scene. Her new album "Spirits," out September 15th via Creep Records (digital, CD, Cassette), is the culmination of her tireless work on her craft through her years of trials and tribulations. Spirits is both devastating and hopeful with an honestly that excludes any pretentiousness. Julia Rainer bares her soul and new fans at her shows find a deep comfort in both the way the lyrics relate to them and the way the songs commiserate with those that feel or have felt lost for any reason throughout their lives. Everything that is found in speaking with Julia for a moment shows in her music: kindness, empathy and compassion. It is no wonder that Philadelphia wants Julia Rainer to succeed. It is the best compliment to an artist, that their fans believe it to be truly important that others hear their message. Spirits is one of those albums. Julia Rainer is one of those artists.
----------
7:00pm Doors / 21+ Show / $7 Cover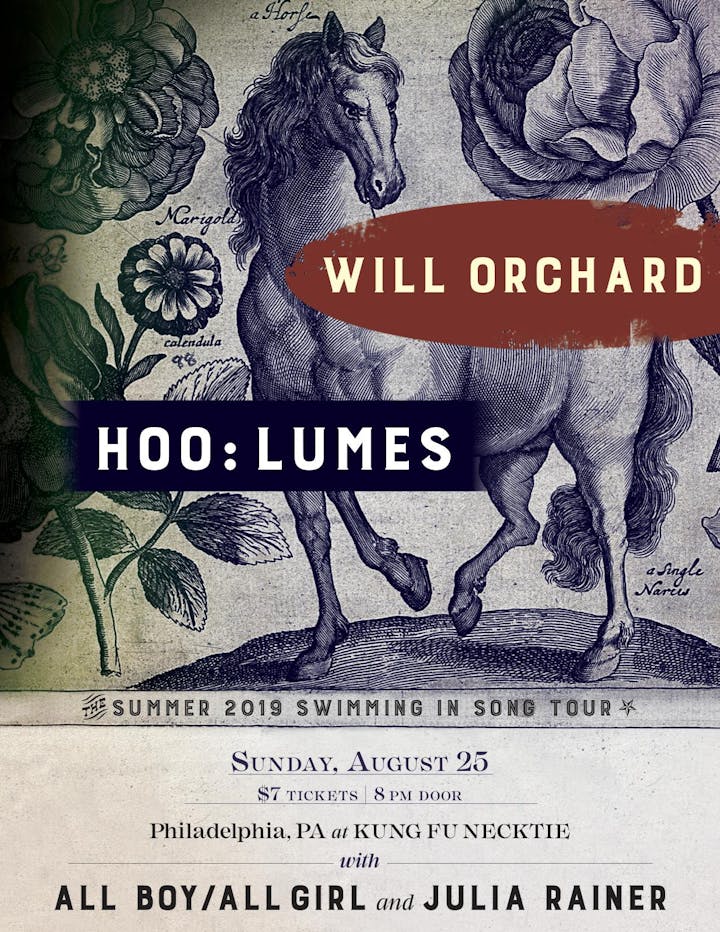 Venue Information:
Kung Fu Necktie
1250 N. Front St.
Philadelphia, PA, 19122