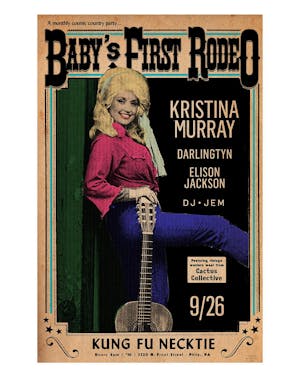 Baby's First Rodeo w/Kristina Murray / Darlingtyn / Elison Jackson / DJ Jem - 09/26 at Kung Fu Necktie
// Thursday 9/26 at Kung Fu Necktie //
featuring:
( Facebook | Instagram | Bandcamp )
Georgia-bred, Nashville-based artist Kristina Murray plays Americana and country music rooted and steeped in troubadour storytelling and southern-rock grit.
Kristina currently lives in Nashville, active in the independent country and Americana music scene. One listen and you'll believe every word that drips from her honky-tonk hewn, yet honeyed vocal style
----------
Darlingtyn is the love child of Philadelphia musicians Jack Shoudy and Emily MacDonald. Their unique style of Americana has made them a rising act in the Philadelphia folk and jam communities. Mixing deeply personal lyrics, vocal harmonies, and a cosmic take on the folk tradition, Darlingtyn brings a unique sound to the jam and Americana scenes.
Rising organically from the relationship between Jack and Emily, Darlingtyn has been a consistent presence in the Southeastern Pennsylvanian folk scene since 2012. From the saloons and coffee houses of the east coast to Summer Camp Music Festival and beyond, Darlingtyn's music has brought together audiences and musicians from folk, jam, and jazz scenes.
----------
philly garage-folk music
----------
DJ Jem
Vintage Western Wear from Cactus Collective
----------
8:00pm Doors // 21+ Show // $10 ADV - $12 DOS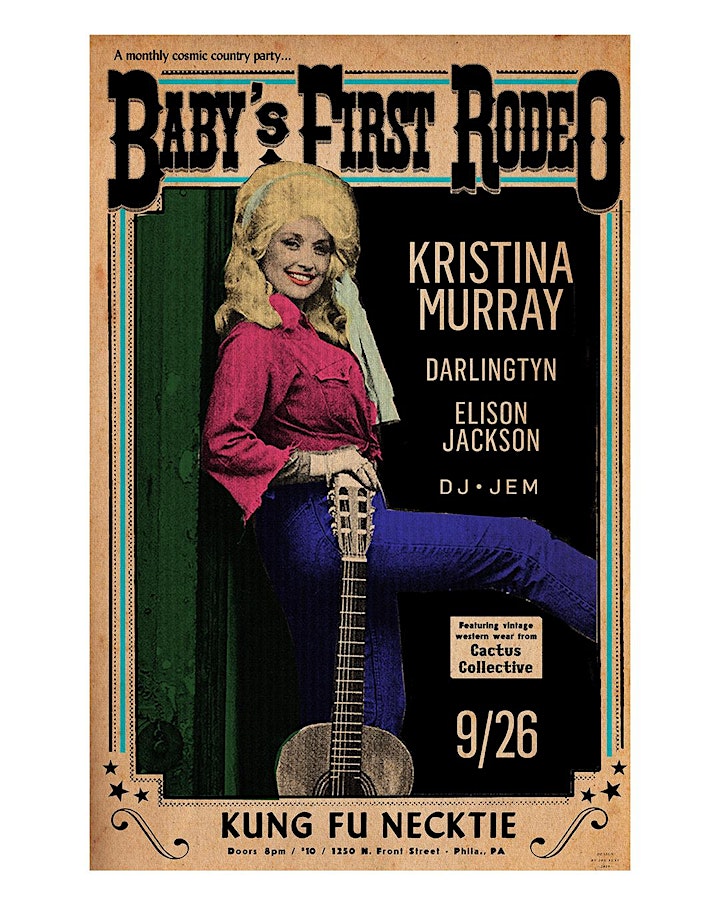 Venue Information:
Kung Fu Necktie
1250 N. Front St.
Philadelphia, PA, 19122