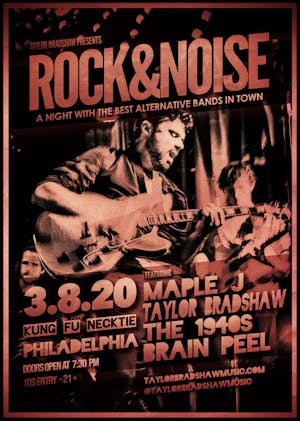 Brain Peel / The 1940s / Taylor Bradshaw / Maple J
$10.00
Tickets At The Door
Brain Peel / The 1940s / Taylor Bradshaw / Maple J - 03/08 at Kung Fu Necktie
// Sunday 03/08 at Kung Fu Necktie //
Brain Peel
Philly Garage Rock
----------
The 1940s
4 piece rock band from South Philly.
----------
Taylor Bradshaw
( Website | Facebook | Bandcamp )
With an energetic vibe that fuses edgy, raw alternative and garage rock with folk and punk sensibilities, NYC based singer-songwriter, Taylor Bradshaw is a fascinating study in emotional extremes, taking the volume way up and rocking intensely, then easing off into dreamier introspection. A lot of his songs are influenced by bands in the city's thriving punk scene.
When he's plugged in during his full band shows, Bradshaw makes no apologies for cranking it up, getting loud and shredding to the point where blood streaks his guitar. When performing smaller acoustic shows, he explores the more heartfelt side of his artistry via the acoustic guitar.
Taylor is set to release his debut album Twine and music video this February, kicking off his tour of the American North-east.
----------
Maple J
Maple J is a blues rock band from Philadelphia blending our love for blues, rock, jazz, hip hop, and r&B music to create something of our own, a modern sound with classic influence to kick back, sing along, and inspire a positive outlook on life!
----------
// 7:30pm Doors // 21+ w/ID // $10 Cover //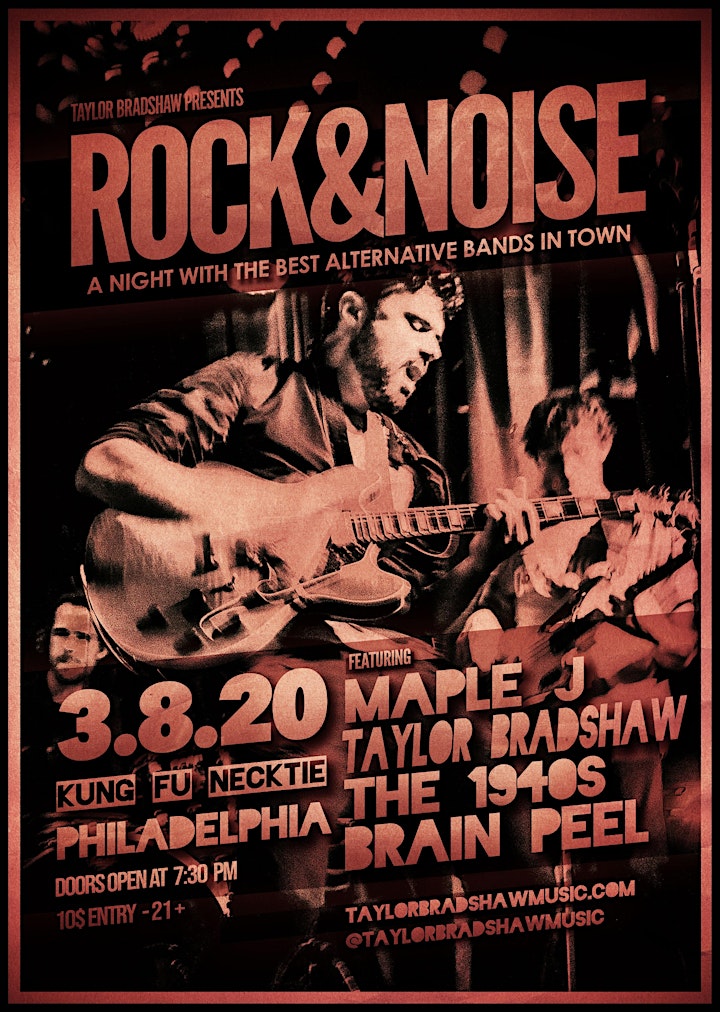 Venue Information:
Kung Fu Necktie
1250 N. Front St.
Philadelphia, PA, 19122