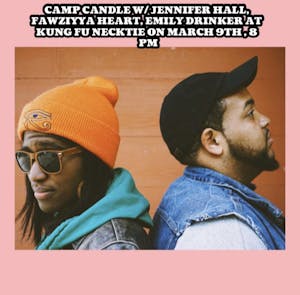 Camp Candle / Jennifer Hall / Fawziyya Heart / Emily Drinker
$8.00 - $10.00
Tickets At The Door
Camp Candle / Jennifer Hall / Fawziyya Heart / Emily Drinker - 03/09 at Kung Fu Necktie
// Monday 03/09 at Kung Fu Necktie //
Camp Candle
Camp Candle is a new duo from Philadelphia who've a hip-hop-accented electronic-pop sound that's going to pique your interest the instant you hear it.
----------
Jennifer Hall
Developing musical roots from Chicago, IL, Jennifer Hall has created a gripping performance with an unmatched vulnerability in her music. Drawing comparisons to the likes of Sia, Florence + The Machine, and Alice Merton, Jennifer identifies as a vocal powerhouse, while integrating her soulful stylings into a mix of experimental production.
Since the release of Jennifer's 2015 self titled EP and the completion of several US tours between 2015 and 2018, Jennifer leaned into a quiet period, a creative hibernation, to rebalance and recharge. Jennifer released her booming single, 'In The Water' and it's accompanying music video at the close of 2019, delivering her signature soaring vocals, and marking the beginning of Jennifer's next creative chapter. With new music brewing, there is plenty more in store from this buzzing artist.
----------
Fawziyya Heart
Fawziyya was born and raised in the heart of Philadelphia. She has been heavily influenced by the music scene that has been changing more and more over the years in Philly. Building long lasting musical relationships on the scene and the love of music is what keeps her going everyday. Her greatest inspirations are Nina Simone, Erykah Badu, and her fellow musical friends. On a typical day you can find her with a pen and decorated notebook writing songs about her life experiences. If she's not doing that, she's probably busy making someone laugh, like crack up laughing. Come along on this journey, explore her mind through song and sound.
----------
Emily Drinker
Blending folk, soul, and pop all with a ukulele and backing band, Emily Drinker is quickly on the rise. Born and bred in Philadelphia, PA, Emily's unique touch of 3 part harmonies and looping is gaining long lasting attention at every venue she plays.
----------
// 8:00pm Doors // 21+ Show //
// $8 Advance // $10 Day of Show //
// Facebook Event //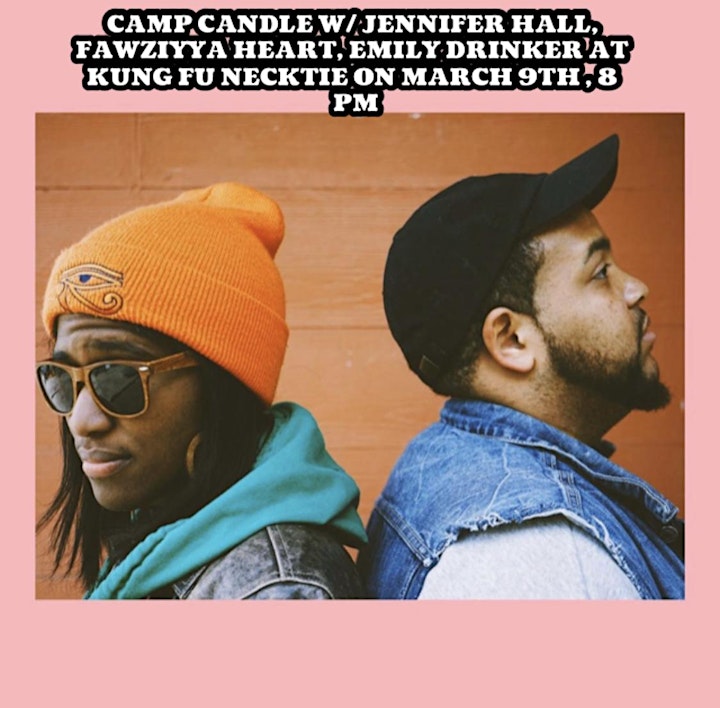 Venue Information:
Kung Fu Necktie
1250 N. Front St.
Philadelphia, PA, 19122