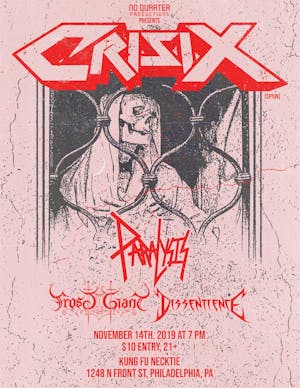 No Quarter Productions Presents
Crisix
Paralysis, Frost Giant
$10.00
Tickets At The Door
Crisix / Paralysis / Frost Giant / Dissentience - 11/14 at Kung Fu Necktie
// Thursday 11/14 at Kung Fu Necktie //
// No Quarter Productions Presents //
Spanish Thrash metal champions Crisix released their last album Against the odds this April via Listenable records and toured all year starting with sold out Full metal cruise, series of headlining shows across Europe, summer festivals as Hellfest, Alcatraz, Download, CMOA, Rude, Mise Open Air, Kutten Fest, Metal Scar, Full metal Holiday,... and played shows as direct support to Body Count. In autumn they performed at many specialised festivals in France, Switzerland and Germany and embark on the first Latin America tour, starting with packed show in Mexico city. After Latin America they played two very special shows in Barcelona and Madrid and will continue with Spanish tour over the winter, before going back to Germany, France, Belgium and Netherlands for solo shows and summer festivals as Wacken, Graspop... In September Crisix will play first festival appearance in United States, at Full Terror Assault Festival in Illinois.
Their live performance is even more crazy than you know it. The energy is tripling and it shows that Crisix is a non stop recording and touring artist that played hundreds of shows. They keep on thrashing, exchange the instruments, play in the pit and party with the audience, always full of surprises.
----------
PARALYSIS
The band "Paralysis" started out in the year 2010. They went through multiple line up changes over the years. They released their first EP "No Turning Back" on September 4th of 2015. A year later their second EP was released on May 20th of 2016 titled "You Can't Win". Over the course of 2016, the band traveled the U.S. supporting that EP. The "U.S. Can't Win Tour" consisted of 9 dates going down the east coast and the "Systematic Apostatic Transgressions On The Midwest Tour" consisted of 7 dates going from New York City to Chicago. The band then released their first full length album titled "Life Sentence" on June 30th of 2017. In support of that album they concluded the "Life Sentence Tour" which was their first coast to coast U.S. tour consisting of 22 dates. The "Civil Execution Tour" consisted of 7 dates going from New Jersey to Chicago and ending in Cleveland, Ohio. They started 2018 with a two week east coast tour. They are planning to consistently tour and release new music in the near future.
----------
FROST GIANT
Ugly, frost-bitten, troll-ravaged folk metal from Pennsylvania, USA.
----------
DISSENTIENCE
Thrash/Death metal from Bethlehem, PA. Debut EP Mask of Pretense OUT NOW!
----------
// 7:00pm Doors // 21+ w/ID // $10 Cover //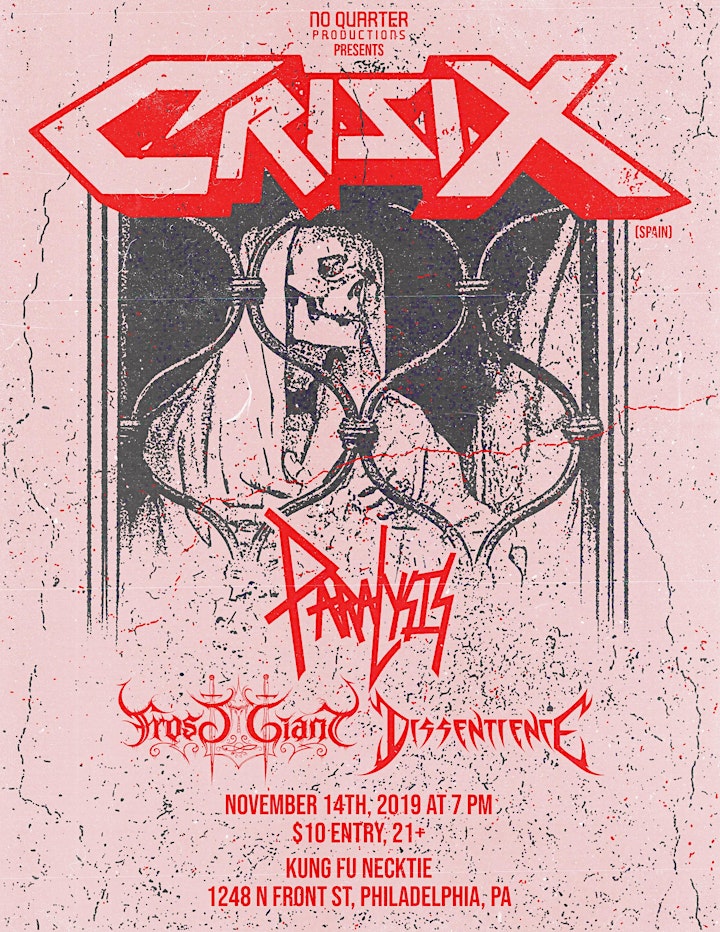 Venue Information:
Kung Fu Necktie
1250 N. Front St.
Philadelphia, PA, 19122