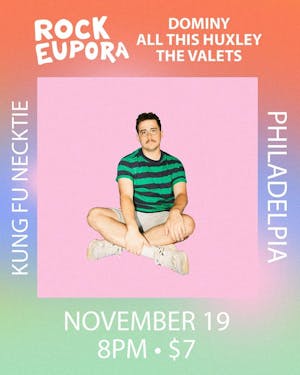 Dominy / Rock Eupora / All This Huxley / The Valets - 11/19 at Kung Fu Necktie
// Tuesday 11/19 at Kung Fu Necktie //
Dominy
( Website | Facebook | Instagram )
Dominy is a Philadelphia based indie band that crafts hook-laced, irreverent rock and roll that draws a wide array of influences that include surf, classic country, and Americana. Formed in 2016, Dominy released their debut album, 'Wet Leather' in January 2017, as well as a follow up EP that July titled 'Dry Pleather'. During their time playing in Philadelphia as well as touring, Dominy has garnered a reputation for high energy shows suffused with sardonic humor. Currently in the studio, Dominy forges ahead with their relentless energy, working on their second full length album (slated for spring 2019), the third release in under two years as a band.
----------
Rock Eupora
( Website | Facebook | Instagram )
Clayton Waller, a Mississippi native residing in Nashville, creates a unique blend of rock music using galactic hooks and infectious melodies.
----------
All This Huxley
( Website | Facebook | Instagram )
All This Huxley is an eclectic indie band, based in Philadelphia, consisting of multi-instrumentalists Trevor Serine, John Corcoran, Josh Mayer, and Alex Marlys. Known for their thoughtful lyrics and diverse sound, they straddle the line between Indie Rock, Folk, and 90's Alternative.
Huxley has a new EP, Home Stockholm out everywhere July 5, 2019.
----------
The Valets
South Jersey five piece band consisting of Jake Bilodeau, Andrew Hartnett, Max Gaylord, Ted Paullin and Connor DeMareo. Our music is available on soundcloud and bandcamp and we play shows all throughout the tri-state area, come check us out.
----------
// 8:00pm Doors // 21+ w/ID // $7 Cover //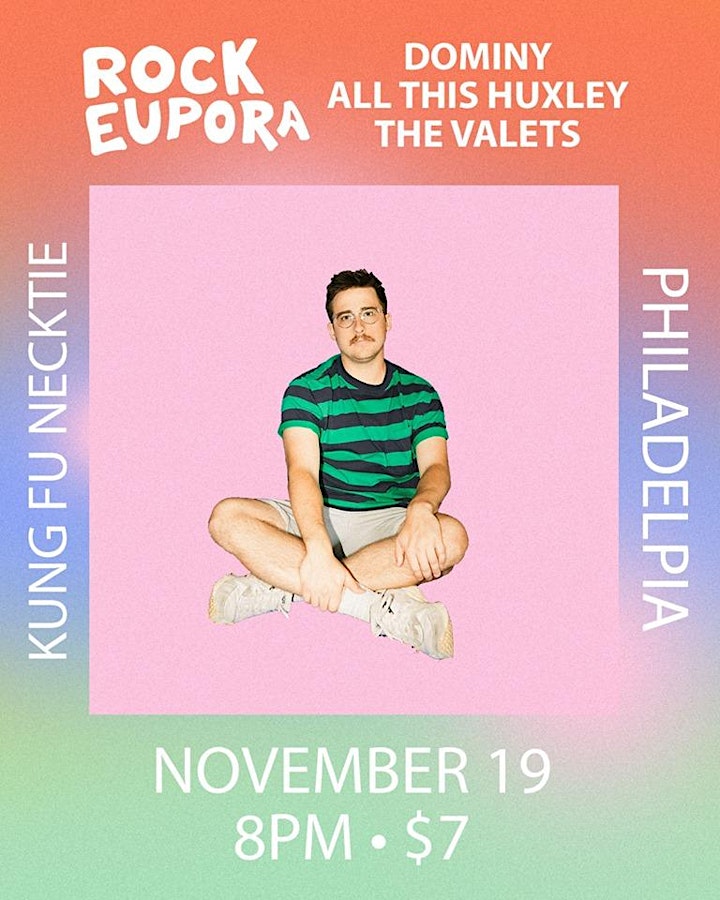 Venue Information:
Kung Fu Necktie
1250 N. Front St.
Philadelphia, PA, 19122