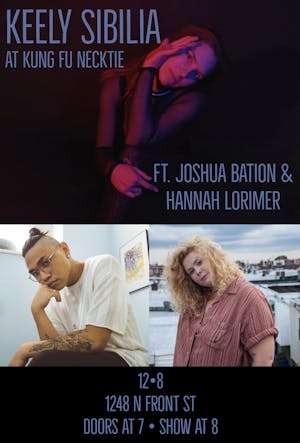 Keely Sibilia / Joshua Bation / Hannah Lorimer - 12/8 at Kung Fu Necktie
// Sunday 12/8 at Kung Fu Necktie //
Keely Sibilia
( Facebook | Soundcloud )
Keely Sibilia is a thriving singer-songwriter/musician on the rise, residing in Philadelphia. Her striking sound selection and unique musical style creates a vibrant listening experience for fans who also enjoy the dark pop sounds of artists such as Banks and Kimbra. Drawing inspiration from the likes of Ella Fitzgerald, Bob Dylan, Bon Iver, and Ellie Goulding, Keely pays painstaking attention to every embellishment in her art. She embodies a diverse sound by using her wide vocal range and entrancing stylings.
Originally from Los Angeles, Keely has performed at venues such as the House of Blues, The Hotel Cafe, and The Viper Room. Having now made her way east, she is quickly marking territory in the Philadelphia music scene. In 2014 Keely won first place in the prestigious vocal competition Songbird: Philly's Best Singer. Since then, Keely has continued to grow and take her music into an intriguing direction. Working with a diverse group of notable east coast artists in genres including rap/hip-hop, indie, rock, jazz, pop,and electro, Keely maintains a distinct sound.
The idea for Keely's inaugural EP was conceived in 2015, and after many late night writing sessions with producer, Robby Webb, her first single "Happy" has recently made it's debut. "Happy" exemplifies self-loss and detrimental vulnerability. Keely hopes for the track to resonate with those who have ever neglected their own self worth in order to cater to someone else's selfish fragility. The idea plays upon the irony of sacrificing your own happiness in order to make someone else feel content, thus resulting in one's own destruction. The relatable topic, deepened by the clashes and twists of lyrics and melodies, leaves listeners of any age or background in a state of self-reflection.
You can hear Sibilia's new single, "Happy" now on all major platforms.
----------
w/Joshua Bation + Hannah Lorimer
----------
// 7:00pm ---- 21+ w/ID ----- $7 Cover //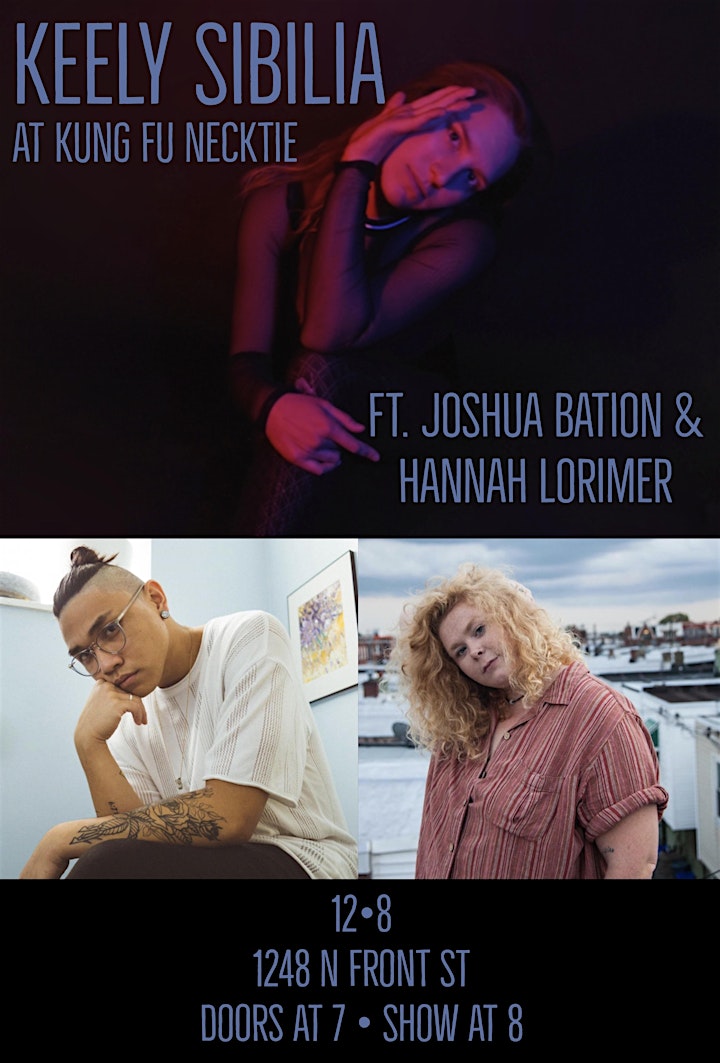 Venue Information:
Kung Fu Necktie
1250 N. Front St.
Philadelphia, PA, 19122